Are you seeking a remarkable family safari in the year 2024 that combines wildlife, culture, and stunning landscapes? Let your kids go beyond screens and witness Africa's true wonder in Tanzania, Meet lions and elephants up close in Serengeti and Ngorongoro Crater. But that's just the beginning.
Our tailored Tanzania Family Safaris offer more than wildlife – think biking, camping in Serengeti, school visits, and cultural exchanges. No longer drives; we fly you to family-friendly lodges and camps in prime locations.
Let our safari experts customize unforgettable Tanzania Safari Holidays  for all, from wildlife-enthusiast dads to junior explorers.
Table of Contents
1.    Why Choose Tanzania for Your Family Safari?
2.    Best Time To Visit Tanzania For Family Safari
3.    Family-friendly Accommodations
4.    Must-try Activities for Families
5.    Creating Tanzania Safari Itinerary For Families:
6.    How To Plan Your Tanzania Family Safari
7.    Tanzania Adventure – Nature, Culture, and Family Bonds
Why Choose Tanzania for Your Family Safari?
Tanzania, with its magnificent blend of captivating national parks, diverse wildlife encounters, cultural immersion, and breathtaking landscapes stands as the ideal destination for a family safari. Here's why you should consider it:
#1 Breathtaking National Parks and Game Reserves
When it comes to the Tanzania Family Safari 2024, one of the most awe-inspiring aspects is the collection of breathtaking Tanzania Tourist Destinationsthat await you and your family.
These natural wonderlands are not just Places To Visit In Tanzania – they are immersive experiences that will leave you in awe and wonder.
| | |
| --- | --- |
| National Parks | Highlights |
| Serengeti | Witness the awe-inspiring Great Migration and explore the expansive plains. |
| Ngorongoro Crater | Discover the unique wildlife and landscapes within the world's largest intact caldera. |
| Tarangire | Encounter large elephant herds and enjoy a quieter, off-the-beaten-path experience. |
| Lake Manyara National Park | A diverse landscapes cantered around a big lake, where you can see many different animals along with tree-climbing lions up close. |
#2 Diverse Wildlife Encounters
Prepare your family for close encounters with Africa's iconic wildlife. From majestic lions to towering giraffes, Tanzania National Parks offer a front-row seat to nature's magnificence. The excitement of spotting these creatures in their natural habitat is unmatched.
#3 Cultural Immersion
Immerse your family in the rich cultures of Tanzania. Engage with local communities, such as the Maasai people, and gain insights into their way of life. Participate in Tanzania Cultural Tours that provide a deeper understanding of the region's heritage.
#4 Unforgettable Landscapes
Tanzania's landscapes are a canvas of diversity. From the endless plains of the Serengeti to the paradise-like beaches of Zanzibar, the country offers a symphony of sights that will leave your family in awe.
Best Time To Visit Tanzania For Family Safari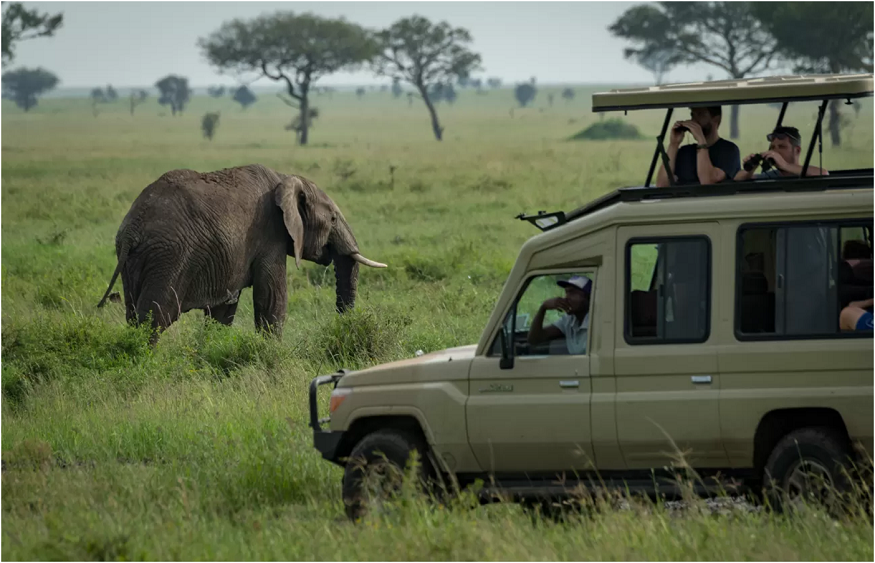 Understanding Tanzania Seasons is important for your safari with your loved ones. Generally, the dry season, from June to October, is considered the Best Time To Visit Tanzania for wildlife viewing. And this time is perfect for your family safari by offering amazing safari experiences.
The wet season, stretching from November to May, brings lush vegetation and fewer crowds, enhancing your family's connection with nature.
Family-friendly Accommodations
Where you stay during your Family Safari In Tanzania is just as important as the places you visit. Luckily, there are places to stay that are perfect for families like yours.
These places understand what you need to feel comfortable and happy. They have things that kids love, like space to play and maybe even a swimming pool to splash around in.
And guess what? These places are near all the exciting things you'll be doing on your safari. It's like having a home away from home, where you and your family can make wonderful memories together.
Must-try Activities for Families
Engaging activities are the heart of any Tanzania Family Safari Tours. Tailor your adventure with these memorable experiences:
#1 Game Drives
Set out on exhilarating game drives into the heart of Tanzania National Parks. Witness various wildlife including lions prowling, elephants grazing, and cheetahs sprinting across the savannah.
Capture these moments through your camera lens and create lasting memories of your Tanzania Safari Tours with family.
#2 Hot Air Balloon Safari
By taking a Hot Air Balloon Safari, you and your family gently rising above the African landscape in a big, colorful balloon.
As the sun peeks over the horizon, everything below you comes to life. Animals roam freely, and the beauty of Tanzania stretches out beneath you like a masterpiece.
#3 Guided Nature Walks
Step off the beaten path and take guided nature walks. Explore the intricacies of the bush, from animal tracks to vibrant birdlife. It's a chance for your family to connect intimately with nature.
#4 Cultural Tours
Beyond the amazing wildlife and stunning landscapes, Tanzania offers a chance for your family to connect with its rich cultures.
Walk through local villages, meet friendly people, and learn about their traditions. These cultural tours are like stepping into another world, where you can see, hear, and even taste new things.
Creating Tanzania Safari Itinerary For Families:
Crafting a balanced itinerary is essential to cater to various interests and energy levels within your family. Blend thrilling game drives, relaxation, and cultural Activities To Do In Tanzania to create a well-rounded experience.
Recommended itineraries for family safari in Tanzania:
6 days Luxury Family Safari to Tanzania
8 Days Best Tanzania Luxury Safari
7 Days Tanzania Northern Luxury Safari
10 Days Luxury Wildlife Safari In Tanzania
12 Days Best Of Northern Tanzania Exploration
How To Plan Your Tanzania Family Safari
Planning is key to ensuring a smooth and enjoyable family safari experience. Let's explore the essential aspects to consider:
Picking the Right Time:First, think about when you want to go. There are times when it's best to see animals, and times when the weather is just right for exploring.
Choose a Tour Operator:There are different companies that organize safaris in Tanzania. Pick one with a good reputation that matches what you want. Find out more about why Gifted African Adventuresis a great choice for your Tanzania Safari Holidays.
Book Your Flights and Places to Stay:Plan where you'll sleep and how you'll get there. There are many options, so pick what works best for your family and budget.
Get Your Visa:If you're not from Tanzania, you'll need a special paper called a visa to enter. Get it from the Tanzanian embassy or consulate in your own country before you leave.
Health and Safety Precautions: Protect your family's well-being by taking health precautions. Consult your doctor for necessary vaccinations and carry essential medications. During wildlife encounters, follow to safety guidelines to ensure a secure experience.
A Family Safari In Tanzania is a once-in-a-lifetime adventure your family will remember forever. There is so much to discover in this African wonderland – it's the perfect place for your family to explore and make incredible memories.
Tanzania Adventure: Nature, Culture, and Family Bonds
In a nutshell, the Tanzania Family Safari 2024 promises an exceptional adventure that will resonate with your family for yours to come. With its mesmerizing wildlife, captivating cultures and breathtaking landscapes, Tanzania sets the stage for an extraordinary family vacation.
So, why wait? We at Gifted African Adventures invite you! It's time to begin a journey that will forever link your family to the beauty, diversity, and magic of Tanzania. Get ready to write your own chapter in the story of this remarkable land, where every step is a step closer to an adventure of a lifetime.